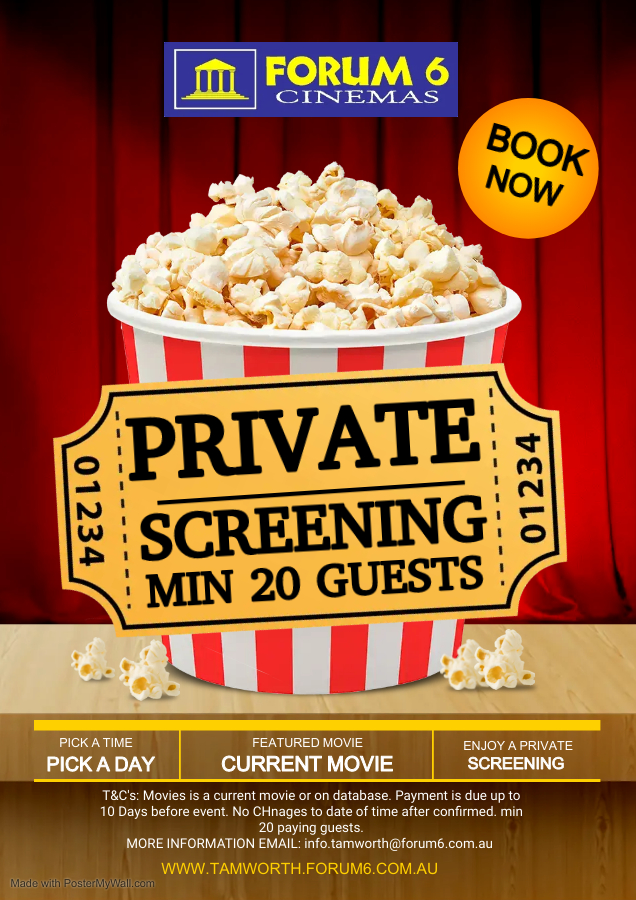 Private Screenings T&Cs
Q. How many people do I have?
A. The minium is 20 people (can be children, depending on rating)
Q. When do I need to pay for the screening?
a. You need to have full payment, up to 10 days before event day.
Q. What movie can I watch?
a. Depending on ratings (children) and availability of movie.
Q. How much does it cost?
a. $12.50 per person.
Q. Can each person pay for this themselves?
a. No, this is a one payment group booking.
Q. Which cinema can I use?
a. Cinema 5 for 20 people, if you have more (up to covid regs) the cinema will change.
Q. Can I get a deal on Popcorn and Drinks?
a. Yes, we have packages starting from $7.50ea
Q. Can I have Beer and Wine with our deal?
a. Yes you can. Subject to age restrictions, must be over 18 to order
Q. How do I book a private screening?
a. Send a email to Grant (see below for link) with what you want with dates, time etc.
Email your enquiry This email address is being protected from spambots. You need JavaScript enabled to view it.