Job Applications
Thank you for your interest in being part of the exciting team at the Forum Cinema Tamworth.
To apply for a future position please pick up an application form at the ticket desk, or Click here to download the form.
Once you fill it out the application form, if you wish attached a copy of your resume, bring it back to the cinema and hand it in at the Candy Bar counter. Please do not attach originals or copies of certificates you may have as if we require those we shall ask for them at the interview stage.
From there we will keep your application on file until a position becomes vacant, at which time we review all our applicants and call a selected number in for a interview.
After twelve months if you haven't been nominated for an interview, we destroy your application and all the information you have given us, and your details are never given to a third party or kept on our records in any way. At this time you are free to hand us another application if you so wish.
Unfortunately we do not accept applications via email.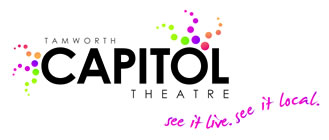 Live Shows
Capitol Theatre Tamworth
Tamworth Regional Council
PO Box 555 Tamworth NSW 2340
Phone: (02) 6766 2028
Fax: (02) 6766 5641