NOW TAKING BOOKINGS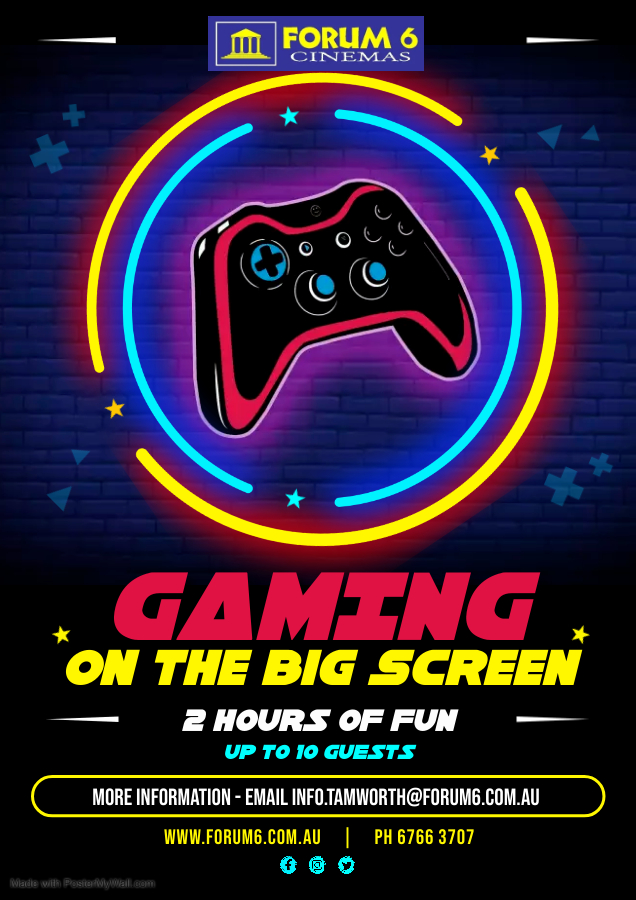 Things you need to know
How many can play?
10 people, no more
Is there an age limit?
There is no age limit, only on the game you are playing. We must comply with that rating.
What console can I use gaming?
Any console that uses HDMI output
What do I need to supply?
The gaming console, controllers and any games of your choice.
What do we provide?
The HDMI cable, sound, screen.
Is there an internet connection available for playing online games?
No,
Is there an extra cost for an internet connection?
We supply a standard connection. Anything more will incur extra charges and a technician test may be required.
How big is the cinema that I can use for gaming?
We supply Cinema 5, this may change due to programming.
How long can I hire a cinema for?
Your playing time is 2 hours, setup is not included. 2 ½ is the maximum time allowed.
How much would it cost to hire for longer?
You can make two bookings.
Can I bring in my own food and beverages?
Outside food and beverages are not permitted in the cinemas. We can cater with drinks and food. Please ask us what options we have.
When do I need to pay the money for the hire?
Payment must be made 10 days before booking, if payment is not made, your booking will be cancelled.
What if I cancel my booking, will I lose my money?
Cancellations made with fewer than 10 days' notice may result no refund. Cancellations at 10 days or more receive a full refund.
What days and times can I book?
Only Monday, Tuesday and Wednesdays are available. Times are subject to movie session times.
EMAIL YOUR ENQUIRY This email address is being protected from spambots. You need JavaScript enabled to view it.